Need help maintaining and caring for your deck? Knowing how often to inspect and perform routine maintenance on your deck will help keep it looking new for decades.
homediggidy.com gathered information and tips to help you recognize when your deck requires maintenance and repairs.
Why Deck Maintenance is Crucial
Regular inspections, cleaning, and maintenance will keep your deck looking new. Exposure to the elements can lead to mold, mildew, and algae growth, posing a severe health and safety hazard. However, proper seasonal maintenance can make your deck a safe and reliable place to gather your loved ones, relax, and unwind. Consider the following deck maintenance and care tips:
Deck Inspection Tips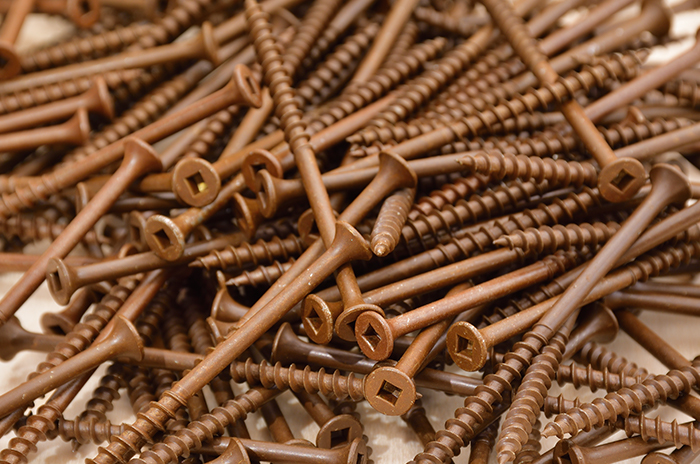 There are many components of a deck that need to be maintained to ensure deck safety. Use the following checklist to properly inspect your deck:
Base Support – Check for rot, movement, and splitting of the column. Check the base plate, top plates, brackets, bolts, and fasteners for rust, rot, or missing parts and replace them as needed.
Soil Under the Deck – Soil should slope away from the house and deck and be free of any plant and weed growth.
Structural Support – Check the wood for rot, sagging, and insect infestation that would appear as damage. This can be from carpenter bees, termites, carpenter ants, or wood-boring beetles.
Flashing and Fasteners – Check the exterior for rot to the flashing along the header where it is attached to the house, and check all fasteners (nails, screws, and bolts) for rust/rot and replace them as needed.
Framing Brackets – These include metal plates or hangers securing wood together. Check for rot, white stains, and rust that weaken the brackets and replace them when necessary.
Decking – For wood decks, check for nails popping up and for wood lifting, splitting, or rotting (replace as needed).
For synthetic or composite material, check for bows, sags, and warping to the boards (especially where the floor joist or supports may span too far).
Tip: A pick test can reveal rotting wood components.
Wood Condition – Wood should not be painted. Use stain or sealant. Check the condition of all wood components (framing, decking, rails, and supports) for warping, bowing, splitting, insect damage, and rot.
Tip: If wood ends are exposed, they should be carefully sealed to prevent water from weakening the wood.
Stairs and Steps – Check for splits, breakage, and rot. Look out for loose, bowed, and cracked boards, and check all the fasteners and brackets for rot, rust, or deterioration. Carefully examine where the steps attach to the deck and ensure it has not separated or pulled loose.
Tip: The stairs leading up to a deck are one of the most overlooked areas and pose one of the most severe risks.
Deck Railings – Ensure that the deck railing is firmly attached to the deck structure and does not come loose when moderate pressure is applied (railings should be secured firmly enough to support 200 lbs of load or pressure and not fail). Make sure railings cannot be moved by the average weight of an adult.
Tip: Railings should be at a proper height (typically 36 inches). Check with your municipal building or construction codes.
Best Time to Refinish a Deck
Choose the deck's refinishing time carefully. Consider the following before you begin:
The weather needs to be relatively mild, with the days not too hot (this makes the stain dry too quickly), and the nights should not be too cold or damp (this will interrupt the drying process).
Prepare the deck by thoroughly cleaning it, fixing any loose or damaged boards, and driving in any nails or fasteners.
Thoroughly scrub the deck with a thick-bristled brush, dipped in a recommended commercial cleaning product or one part bleach and three parts water.
Tip: Any stubborn mildew or stains should be pressure washed, sanded, or treated before you start staining the deck.
Refinishing Your Deck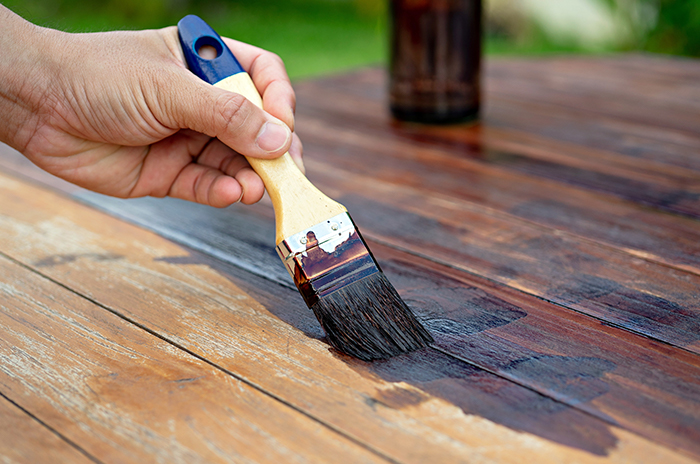 If you choose an excellent stain (solid stains are highly recommended) for your deck, it will likely last for 3 to 4 years before any maintenance coats may be required.
Use a brush with synthetic bristles for acrylic-based products and a brush with natural bristles for alkyd-based stains.
Paint the vertical parts (posts and railings) first, then move on to the horizontal boards. If you use a roller, use a brush to work the stain into the wood grain, and apply a minimum of 2 coats (allowing your deck to completely dry between coats).
Tip: Remember to refinish the sides and ends of your deck planks.
Deck Maintenance
In this article, you discovered maintenance and care tips to help you keep your deck in pristine condition year-round.
Performing routine maintenance and needed repairs on your deck will keep you and your loved ones from being injured by splintering and rotting wood.
Failing to regularly maintain your deck will cause its look and finish to degrade over time, leaving you and your loved ones exposed to splinters and the potentially catastrophic failure of your deck.
Sources:
homeinspector.org/Resources/Standard-of-Practice/Deck-Inspection-Standard
nachi.org/deck-inspections.htm
consumerreports.org/wood-stains/best-wood-stains-from-consumer-reports-tests-a4478428531/